The new single "String Attached" is now streaming on ALL platforms!
Paying homage to the pop divas of the early 90's, Raye's colorful new single, "String Attached" is now available on ALL streaming platforms!  
Click here to listen on your preferred platform!  
Raye shares the stage with her idol, Wynonna! 
Raye attended a charity event, Rock The Cradle, benefiting Saint Thomas Hospital in Nashville, TN.  From the audience, Raye was called on stage by Wynonna herself and together they sang Wy's biggest hit, "No One Else On Earth"!  You've got to see it to believe it!
Introducing Raye Williams...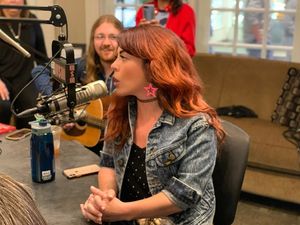 Mixing the nostalgia of 80's R&B with Nashville's songwriting style, this powerhouse performer is effortlessly re-creating the genre of "Diva Pop" for this generation.  Let us introduce to you the Motor City – Music City hybrid force that is Raye Williams.
In September 2019, it was announced that Raye had partnered up with TIDAL, the only artist-owned global streaming service, spear-headed by Jay-Z.  TIDAL unveiled that Raye was 1 of 5 artists chosen to take part in a new $1 million endowment program to support emerging artists, kicking off in Detroit.  Featured everywhere from Billboard and AP Press to Pitchfork and Variety Magazine - this opportunity has put Raye in a spotlight like never before with new TIDAL exclusive music and a documentary coming in early 2020.
Raye's career accomplishments are as versatile as her vocals.  From sharing the stage with the likes of Jason Aldean, Wynonna, and more to becoming a Spotlight Artist for the ride-share app, Lyft throughout 2018 to being a regular guest on the most famous, longest-running radio station in world, WSM 650 AM, home of the Grand Ole Opry.  With independent single releases and sold-out shows, over 2 million website hits and over 250K video views in the last 12 months, Raye Williams has undeniably established herself as a "One To Watch" artist.