TIDAL Unplugged Sessions LIVE
Introducing Raye Williams...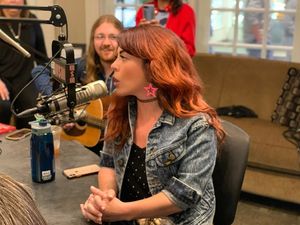 Mixing the nostalgia of 80's R&B with Nashville's songwriting style, this powerhouse performer is effortlessly re-creating the genre of "Diva Pop" for this generation.  Let us introduce to you the Motor City – Music City hybrid force that is Raye Williams.
In September 2019, it was announced that Raye had partnered up with TIDAL, the only artist-owned global streaming service, spear-headed by Jay-Z.  TIDAL unveiled that Raye was 1 of 5 artists chosen to take part in a new $1 million endowment program to support emerging artists, kicking off in Detroit.  Featured everywhere from Billboard and AP Press to Pitchfork and Variety Magazine - this opportunity has put Raye in a spotlight like never before with new TIDAL exclusive music and a documentary coming in early 2020.
Raye's career accomplishments are as versatile as her vocals.  From sharing the stage with the likes of Jason Aldean, Wynonna, and more to becoming a Spotlight Artist for the ride-share app, Lyft throughout 2018 to being a regular guest on the most famous, longest-running radio station in world, WSM 650 AM, home of the Grand Ole Opry.  With independent single releases and sold-out shows, over 2 million website hits and over 250K video views in the last 12 months, Raye Williams has undeniably established herself as a "One To Watch" artist.